Stormz is really relevant and very effective [...] In short, the meeting is quick, accurate and we are going straight to the point. This is just what we need! Liane Mathiaut, Regional Communication Manager.
How it works
Chose one of the ready-made workshops or design your own
Invite up to 15 on-site or remote participants
Work together through a sequence of guided collaborative activities
Discuss, wrap-up and export results
Stormz for Google Hangouts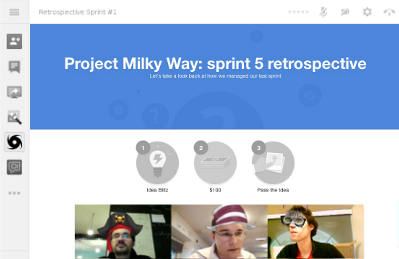 Use Stormz inside Google Hangouts, the video-chat solution, to work effectively with a remote team. Try out Stormz for Google Hangout.
---
Start your first workshop today with our
30-day unlimited Free Trial
Get Started
---