My favorite video conferencing tools in 2021 (for workshop facilitation)
August 23, 2021
Alexandre
Remote Meetings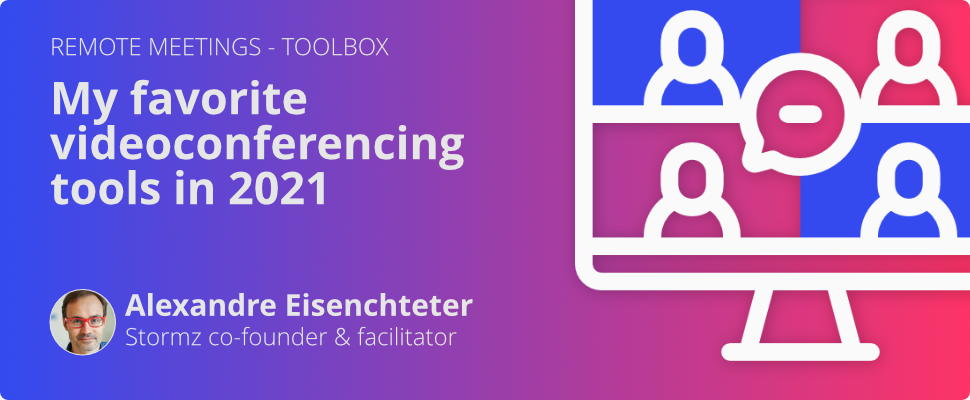 As Stormz co-founder and session designer/facilitator for the iLow agency, I have facilitated hundreds of remote collaborative workshops using a combination of Stormz (of course) and a video-conferencing software. And surely, using the very best tools at our disposal is essential to the success of such sessions. In this article, I will share the result of ten years of experience: the ultimate list of the video conferencing tools I like (or would like) to use to facilitate important strategic collaborative workshops for my clients (ie. meetings where participants co-design solutions to important business challenges).
Before, we start, I have a few introductory comments, but for those of you who are too eager to wait, here is a quick rundown of my Awards:
My all-time favourite: Zoom Meeting
The best progress: MS Teams
The most fun: Gather
The most delightful UX: Whereby
I also speak about: WebEx, Jitsi and Bluejeans.
Before we start…
This list reflects my personal opinion and is based on my own approach to collaborative workshops. Yours might differ of course… But I'm confident you'll get a lot of value out of it as, contrary to the countless "best video conferencing tool" articles that you can find on the internet, this one has not been sponsored in any way and is based on an extensive real-life facilitation experience comprising successes… and utter failures (thank you MS Teams)!
My typical scenario
For you to understand my typical setup (and compare it to yours):
I generally facilitate 3-4 hours sessions with 10 to 30 participants. Sometimes a lot more.
Quite often, participants will be using the software for the very first time. More importantly, I often work with participants who are world-renowned experts in their fields but still have a surprising low level of computer literacy.
I design a succession of collaborative activities (brainstorming, concept development, evaluation, etc) in Stormz that participants usually carry out in smaller groups and then debrief together in plenary.****
To foster discussions, I use breakout rooms a lot and vary the assignment mechanism (random, manual, by choice) throughout the workshop.
While in plenary, I rely a lot on reactions (thumbs up, claps) and the chat to foster interactions.
My main selection criteria
Back to the list now. There are dozens of contenders on the market, but when you use a video-software to facilitate professional workshops you cannot use rudimentary tools. Some essential features are needed and maximum reliability is vital. Here are my prerequisites:
Platform reliability: a fundamental requirement! Don't you hate it when the platform is down 5 minutes before an important workshop? One reason why it's necessary to have a status page, to be able to quickly check if the platform is experiencing issues.
Feed quality: video should work perfectly and, most importantly, sound must be crystal clear.
Breakout rooms: you'll have to pay me a lot of money to facilitate a session with a video conferencing tool that does not have a breakout rooms feature. At least for groups of more than 7 people, it makes a hell of a difference in the meeting experience.
More than 20 video feeds : As a facilitator, I hate having to tinker with the interface to be able to see the faces of the different participants.
Omnipotent co-hosts: Except for very small casual meetings, I usually co-facilitate my meetings with Roxane. The ability to have co-hosts with sufficient privileges to help the main facilitator with all the tasks (breakout rooms assignment, for example) is very important.
Will there be exceptions to these? Yes, absolutely... Since this is my list, I can do pretty much what I want here... including picking a high-potential product (Whereby, Gather...) even if one or several of the previous prerequisites are not fulfilled ;-)
Note that this is a moving landscape, MS Teams for example is issuing small and big improvements every week. I'll try to keep this article updated as often as possible, but feel free to contact me if you see that something has changed.
I should also add that most of my real-life facilitation experience lies with Zoom, Webex and MS Teams. Although I don't have the same level of experience with the others, I tested each one of these software personally either on small-scale sessions or internal meetings. When I'm not sure of something, I will of course be transparent about it.
My all-time favourite: Zoom cloud meeting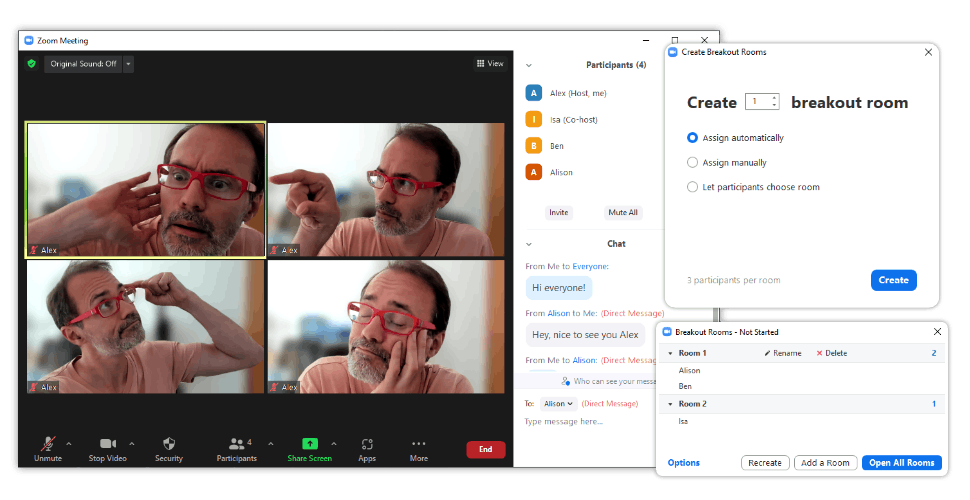 Illustration: Zoom's incredible gallery view (up to 49 feeds) and its breakout settings.
Zoom cloud meeting, or simply Zoom, just celebrated its 10th anniversary! It's a video conferencing software developed and commercialized by Zoom Video Communication.
I've been using Zoom for many years and it's still my favorite video-conferencing application. First of all, its fundamentals (reliability, video and sound quality) are so good that it's the only video conferencing application that I use without checking the status of the platform (even though I should of course, no single app is foolproof). It has an incredibly rich set of features and parameters, and as a professional facilitator, I like having the possibility to fine-tune all the options I need for my workshop.
Finally, it keeps innovating, so I'm confident that it will still be a good choice in the years to come.
What I like in Zoom Meeting
The robustness! I've facilitated dozens and dozens of workshops, including some with hundreds of participants, and I don't remember having one single issue with the platform. When you deal with strategic topics and facilitate sensitive issues, you really shouldn't have to worry about the tools you're using. This is one of the main reasons Zoom remains my favorite choice.
One of the best gallery view: 7X7 video feeds plus the ability to reorder the feeds and synchronise this custom order with the participants.
The breakout rooms. You have three options to assign the participants (random, manual, and participant's choice). They also work very well, and passing from one breakout room to the other (vital when facilitating) is pretty fluid, even if it could probably be improved.
The features. Zoom has one of the richest feature sets of all. With COVID and increased competition, it isn't always the first to ship a new feature (MS Teams has gotten a lot better in that regard, see below), but they're usually quick to respond. See for example the "immersive" view, initially invented by MS Teams.
The Zoom status page is crystal clear, very easy to check and understand.
What I dislike in Zoom Meeting
Zoom bashing! Early 2020, there were some privacy/security issues. Though some (not all) concerns were valid at the time, things are now back to normal. Still, a lot of my big corporate clients' IT departments have decided to blacklist Zoom without any truly valid reason (mostly because they want to save their skin, if you ask me).
Breakout: no pre-assignments before the meeting (unless the participants have a Zoom user account).
The chat is fairly limited compared to MS Teams'. Two main issues for me: you cannot paste pictures nor can you access all the chats of the breakout rooms from the plenary.
The floating thumbnail window allows you to always see the speaker video feed on top of other apps. Before I discovered Whereby PiP feature (see below), I thought that this floating window was great. Now I know it sucks!
The settings are all over the place, scattered between the app and different parts of the website. It's a mess!
Useful links for Zoom
💻 Website: https://zoom.us.
📄 Documentation: https://support.zoom.us/hc/en-us.
📉 Status page: https://status.zoom.us/.

Are you facilitating remote meetings? Use our application Stormz with Zoom or others to facilitate engaging collaborative activities with your participants: brainstorming, retrospective, product evaluation, etc.

The best progress: MS Teams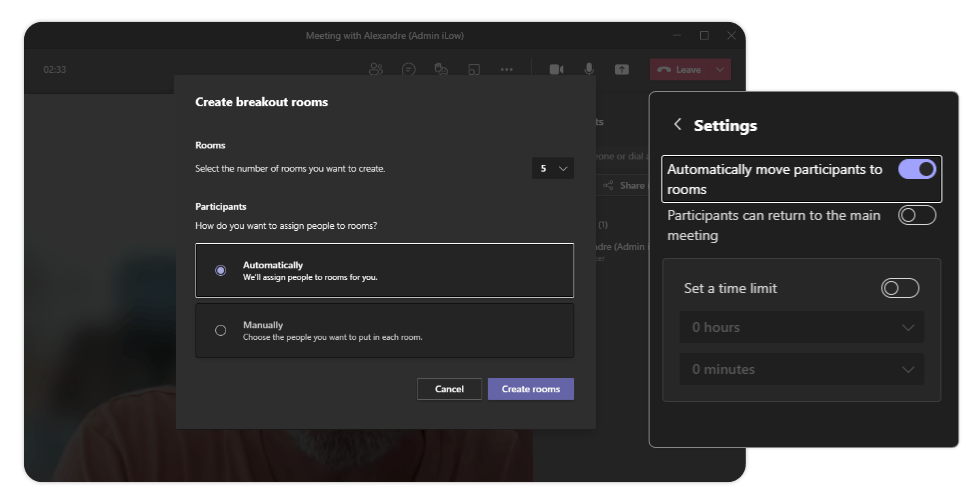 Illustration: MS Teams breakout options is lacking the "Participant can chose" option and I never use the time limit...
Team is Microsoft's stake in the ultra competitive world of video-conferencing software. It's also (compared to Zoom or Webex) a relatively new contender.
Before COVID, Teams would not have made it to my list of favourites, but I have to admit that the software has made huge progress in only one year: breakout rooms, large 7X7 video mosaique, and literally hundreds of improvements.
First of all, as an external facilitator, it's difficult to dismiss Teams. So many companies are using it that it would be a mistake not to take the time to master it, or at least understand its pros and cons. And as I said, it has made such great progress that there's no good reason not to use it or try to impose another software if your participants are already familiar with it.
One of the biggest downsides is that you cannot have co-organizers to help you facilitate the meeting. It's an even bigger problem as only the organiser can manage the breakouts and he or she cannot be changed on the fly. Because of that, you cannot rely on your client to create the meeting and invite the participants. You have to do it yourself. This problem is almost a deal-breaker for me… But guess what, it is going to change (but when?)...
What I like in MS Teams
The fact that it's the favorite tool for many of my clients. It has kind of a Microsoft-y unfair advantage given Teams is available for free if you have an Office 365 subscription.
It has nearly all the features I need: breakouts, large group view (could be better though), reactions, etc.
The ability to monitor and use the chats of all breakout rooms at once from the main Teams chat list. This is great to monitor and support all breakout groups from a single place.
What I dislike in MS Teams
No co-organizer role! There's no way to change the organizer on the fly and only he or she can manage the breakout rooms.
Their status page is too complex and you have to log in to an admin account to see it. Speaking of reliability, even if it has made huge progress, there are still some issues. I was sometimes kicked out of workshops I was facilitating, or had to reschedule a workshop on Zoom because of a major worldwide issue…
The large group view feels like a hack more than a normal view. Its quality is below average, and you cannot change the order of the feeds.
Breakout: participants are not able to choose their breakouts. Plus there are no pre-assignments before the meeting, and the current breakout assignment is not very user-friendly (although this should change soon with a new modal).
The meeting interface is now separated from the MS Teams main interface. It used to be integrated and easier for participants to navigate between the discussions, tabs (with apps such as Miro or Stormz) and video feeds.
And last but not least, I just hate the immense number of settings and admin pages of my Microsoft account.
Useful links for MS Teams
💻 Website: https://www.microsoft.com/en-ww/microsoft-teams/online-meetings.
📄 Documentation: https://support.microsoft.com/en-us/teams.
🎯 Roadmap: https://www.microsoft.com/fr-fr/microsoft-365/roadmap.
🙏🏻 Feature requests: https://microsoftteams.uservoice.com/forums/555103-public..
📉 Status page: https://twitter.com/MSFT365Status &  https://portal.office.com/adminportal/home?#/servicehealth (admin account required)
The most delightful user experience: Whereby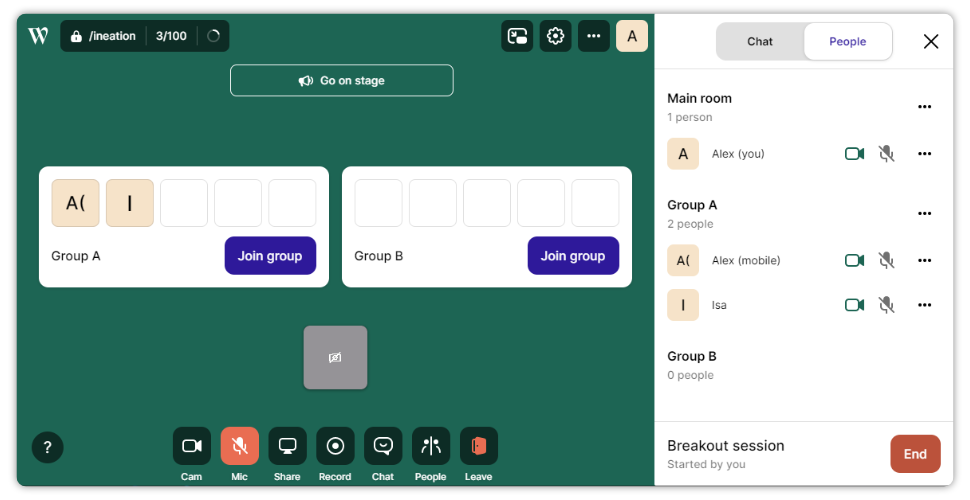 Illustration: Whereby user interface and its breakout settings
Whereby was only recently included in this list with the release of its breakout feature in April 2021. And I could not be happier about it as I was always attracted by the simplicity of the design of the application. So here it is in my top list, the simplest, yet incredibly efficient!
My definite favorite Whereby feature is the Picture in Picture, which enables a seamless experience when I ask my participants to brainstorm on Stormz.
The biggest issue for me, on the other hand, is the 12-video limit. While Whereby has a good explanation (excuse?) for it (link) - and indeed, too many video feeds aren't necessarily a good thing for participants - professional facilitators like us need to be able to see whether people are listening or making funny faces behind their screens.
What I like in Whereby
As you can infer from the award, the simplicity of the interface. It's clean, seamless and very easy to understand for participants.
The Picture in Picture feature is awesome! There's also an option that activates that mode automatically when your participants click on a link shared in the chat. It means that while you're in a session, you can copy-paste a link to your Stormz workshop (or another app) and as soon as a participant clicks on it, they will be directed to Stormz (or any other app) but still be able to see the video feeds. Much better than the tiny video Zoom shows when it's minified. If you ask me, it is also much better and flexible than an integration.

The breakout assignment interface is nicely efficient, with drag and drop.
The breakout assignment by choice, highly visual and easy to use.
What could be improved
The 12-video feed limit, fairly annoying for facilitators dealing with large groups.
The screen sharing experience on a web app, and the limits on Firefox and Safari
There's no way for a meeting host to reassign or move a participant to another room while the meeting is in progress.
The recording feature, which requires to download a Chrome applet and then select the right tab. You cannot ask participants to do that, which can be a significant obstacle if you need to record breakout rooms.
What I don't know
I've only tested Whereby with a limited number of users. I cannot comment on the robustness of the platform with medium (20-30 pax) or large groups (50-100 pax).
The sound quality seemed inferior to Zoom's when I tested it. But I don't have enough data to say for sure.
💻 Website: https://whereby.com/.
📄 Documentation: https://whereby.helpscoutdocs.com/.
📉 Status page: https://wherebystatus.com/.
The most fun: Gather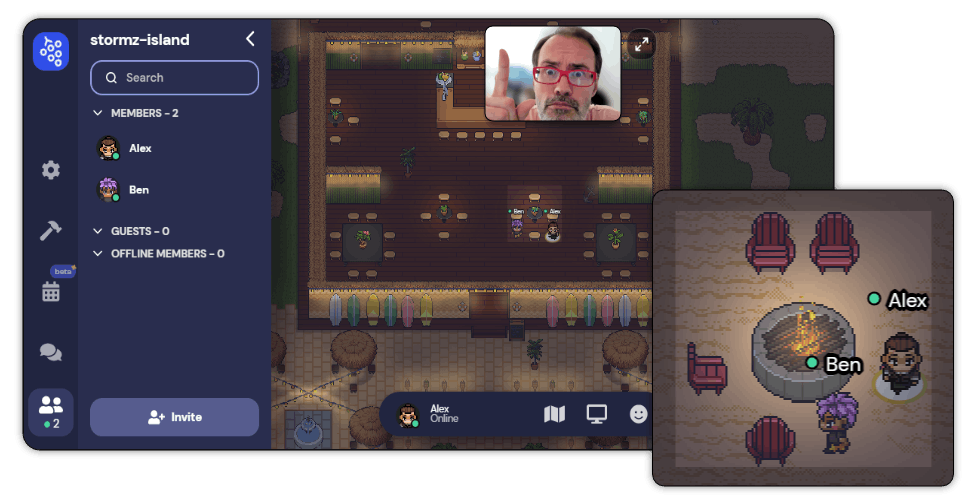 Illustration: Gather user interface is so cute. Love it! You can also see a breakout space near the firepit.
Now something really different! While Zoom, Teams, Webex all pretty much look alike, the Gather app, with its vintage pixel design, provides a new kind of experience. Once you enter the meeting you're represented by a little avatar that moves in a cute and fun 2D venue. There you can interact with other participants or… with pieces of furniture.
Gather's breakout groups (called private areas) are wonderful. Just use (or create) a map with different rooms or spaces and ask your participants to move their avatars to their assigned room. Alternatively, if they move closer to others in an open space, they can see their video feeds appear. Simple, visual, fun and efficient.
Of course you don't have as many features as you would have in Zoom, Teams or the other software in this category (you cannot assign people to specific breakouts, for instance). I also wouldn't use Gather with people who are not too comfortable with computers, they would easily get lost in the virtual venue! Finally, we encountered a few visual bugs when we tested the application, but nothing critical.
To be honest, I discovered Gather recently and have not tested it yet on complex meetings with a lot of participants. I think Gather would for example be a great candidate for a virtual Open Space (no need to pre-assign people in groups)!
And it's just the beginning, considering Gather recently (March 21) raised $26 million in a Series A round. Let's hope they make good use of that money ;-)
What I like in Gather
It's cute, it's fun, and provides a whole different experience.
The way breakout works, just like in the real world. Great for setups where participants can move freely between groups.
The spotlight tile, to broadcast video instructions to all the groups at once.
The possibility to embed links to websites and videos in the space.
A lot of user roles for complex events: owner, moderator, builder...
What I dislike in Gather
Some visual glitches (tested in July 2021).
Looking at the status page, I see that even if the uptime is good, they have about one incident every week.
The lack of features and settings compared to what you may find elsewhere.
Do not underestimate the added risk that the 2D virtual world might be difficult to navigate for participants with a rudimentary level of computer literacy.
💻 Website: https://www.gather.town/.
📄 Documentation: https://support.gather.town/help.
📉 Status page: https://status.gather.town/.
The other contenders
Even if they did not make it to the top list, these are really good software. Depending on the way you work and facilitate sessions, they could even be a better fit for you.
Cisco Webex
I used to hate Webex, the interface felt clunky and the platform was not robust. But things have changed for the better, the application was redesigned and the experience is now way better.
Overall the solution is very rich and comprises most of the features I need. I won't have any qualm using Webex, especially if it's my client's official video-conferencing solution.
The most innovative (and fun) feature is the automatic detection of a few gestures (thumbs up, thumbs down and claps). It's not just a cool little gadget, as it's not as easy as it may seem to ask participants to use the reaction buttons. Other than that, I enjoy the flexibility of the broadcasting feature for breakouts, including the fact that you can select the group and decide to broadcast only to the co-hosts. Great for managing the facilitator team.
My biggest issues are that breakout sessions cannot be recorded, which can be a deal-breaker for some of my sessions, and that participants cannot share their web browser.
What I like in Webex
Gesture recognition: very cool use of image analysis to detect if someone is doing a thumbs up.
Custom layout: as a facilitator, I like being able to focus on some specific video feeds.
The broadcasting feature for breakouts.
What I dislike in Webex
Only one host or co-host at a time can have the Breakout session assignment dialog open.
Breakout sessions cannot be recorded.
The web browser cannot be shared while in a breakout.
Useful links for Webex
💻 Website: https://www.webex.com/.
📄 Documentation: https://help.webex.com/.
📉 Status page: https://status.webex.com/service/status.
Blue jeans
Blue Jeans is a video conference application that was recently acquired by Verizon. Is it a good thing? Maybe, maybe not, time will tell. Before COVID, Blue Jeans was one of the rare meeting applications that featured breakout rooms, but things have changed and this isn't a distinctive feature anymore.
… detailed review to come later… Stay tuned ;-)
The ones I'll never use
At least not until significant improvements are made…
Jitsi Meeting
As much as I love the idea of an open-source video-conferencing platform, I wouldn't recommend using Jitsi Meeting in a professional facilitation setting. Every test I did with the platform showed a huge lack of stability of the video and sound streams. Even with only three people in the room :-/
I really would like this solution to work, so I'll keep you posted here if I notice some improvements.
Website: https://meet.jit.si/
Let me know your thoughts
That's all for now! I hope you enjoyed these short reviews and that they'll help you select the ones you like.
As you can see, this is a work in progress, so send me a message if an update is needed or if you'd like another product to be reviewed here..

Now that you are here!
Stormz is an application to help you facilitate collaborative activities such as brainstorming or retrospective with your teams. If you are using Zoom or Teams or others and are looking for more ways to engage your participants then you should really try Stormz (for free).