Online collaborative meetings: The different formats
March 15, 2020
Alexandre
Remote Meetings
Eight years ago, I started designing and facilitating online collaborative meetings for my clients. It's pretty safe to say that, over the course of the years, we've experimented with nearly all kinds of online and remote collaborative meetings. But in the end, it all boils down to three formats: 100% online, multi-room and hybrid.
Setup #1: 100% virtual meetings, the easiest to organize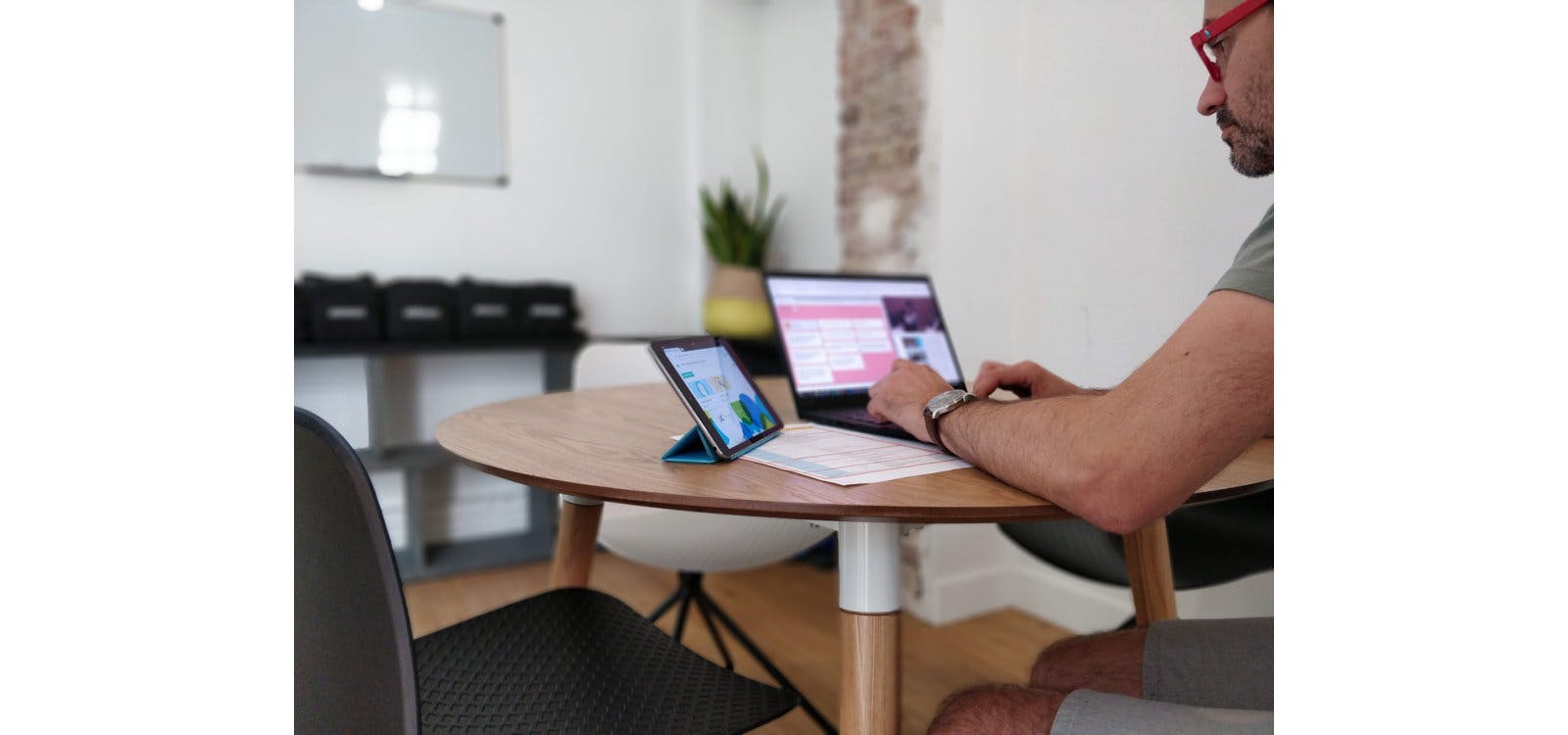 Participants are alone (at their office or at home), join the video-conference (with Zoom, Webex, MS Teams…) on their private laptops and share their inputs on the Stormz application (ideas generation and selection, concept development, evaluation…).
The main benefit?
It's incredibly easy to organize considering that (almost) everyone now has a private laptop equipped with a mike and camera of good quality.
The main technical requirements?
Make sure that every participant has access to high-speed internet and, most importantly, an appropriate sound environment. Even though we've all experienced its pitfalls, we tend to forget it way too easily: the sound quality is no mere logistical detail, but a decisive aspect to facilitate discussions and improve  the efficiency of online collaborative meetings whose success largely rely on the participants' ability to communicate, debate and exchange ideas in the smoothest possible way. A crucial factor to keep in mind considering that, according to a recent Owllabs study, no less than 25% of employees believe that audio is the main flaw of videoconferences!
Let's take it up a notch
By combining the Stormz app with a software like Zoom and its virtual sub-groups, it becomes possible to organize online collaborative meetings with large groups of participants (20, 30, 50…). In that case, it's critical to be extremely well prepared and be able to rely on a first-class facilitators. But then again, that's why our clients need a facilitator, right?
The main challenge?
Keeping participants focused! Their phones and unread e-mails are never far away… Even though, thanks to the Stormz application, our meetings are always extremely participative and are designed for every participant to have his or her say, we usually limit them to two or three consecutive hours max. Even if that means organizing more meetings, that's the only proven way to keep participants focused and engaged.
An example of a 100% virtual meeting?
We designed, organized and animated 2-hour workshops for a large pharmaceutical company where representatives from the various local subsidiaries were able to work together on the launch of a new medicine.
Setup #2: Multi-room online meetings, the most ambitious for group dynamics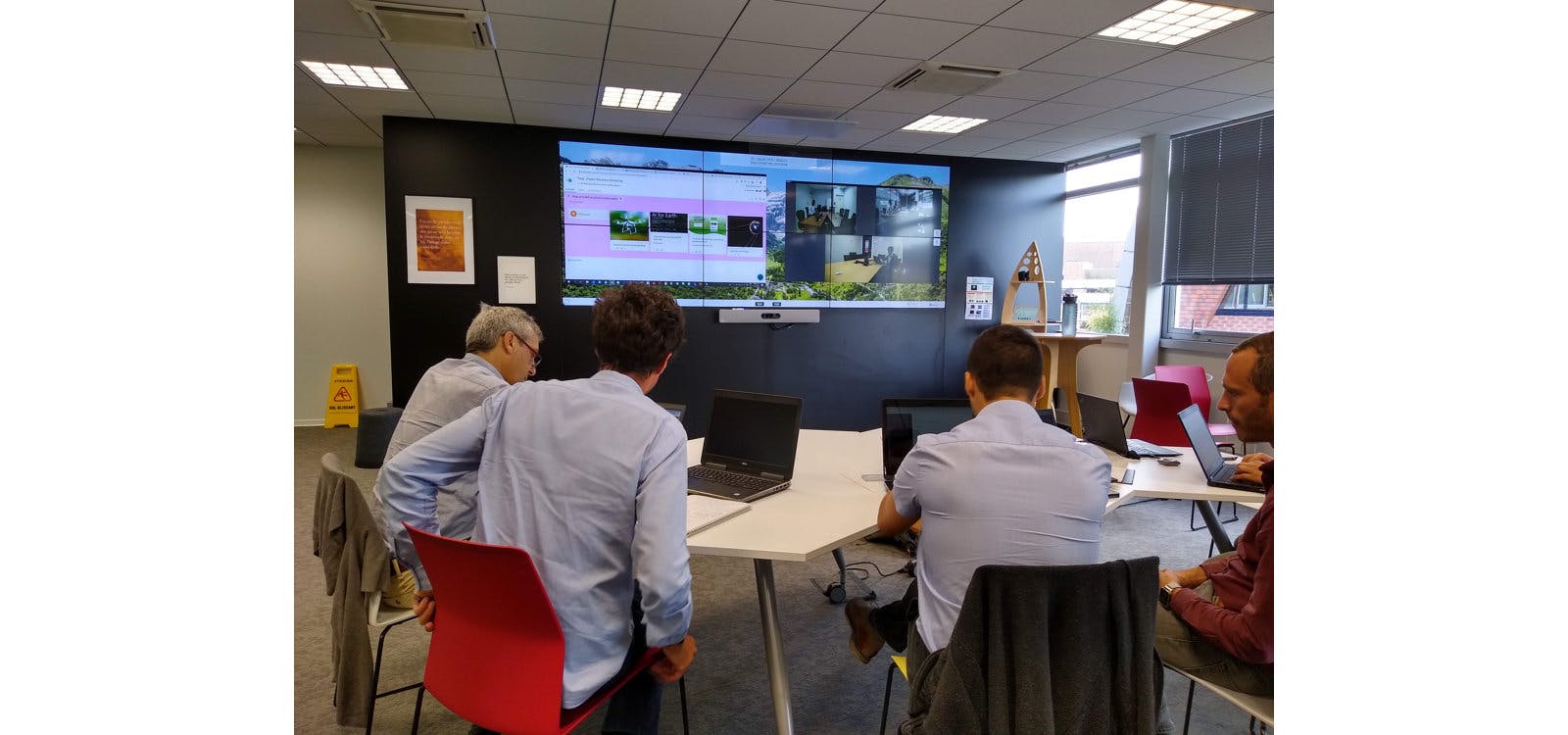 As its name clearly suggests, participants are gathered in several rooms connected to one another through video-conference. Alternating digital plenary sessions with face-to-face group discussions, this format opens up incredible new possibilities in terms of collaborative dynamics.
The main benefit?
Organizing face-to-face discussions with low-tech activities – post-its, cards games, Lego bricks, etc. – before submitting inputs and contributions on the Stormz app.
The main technical requirements?
Regardless of the precise technical set-up – one laptop per person for delicate or personal topics, or one tablet per groups of twos or threes – our main focus is to ensure that discussions go smoothly, not only between participants within the same room, but also from one room to the next. Contrary to 100% online meetings, multi-room sessions can be organized during a whole day… as long as you're able to maintain your participants' focus and energy!
Let's take it up a notch
With a software of the likes of Zoom – if you have enough physical meeting spaces – we can also set-up virtual sub-groups with participants from different countries. This is no small feat and requires expert organizational skills, but that is worth the effort.
The main challenge?
Today, most of the meeting rooms are equipped with a single camera. Although it gives us a complete view of all the participants in the room, it also keeps us from seeing up close those who are actually talking (even with rotative or high-quality cameras). A teeny-weeny detail? On the contrary, it's a major obstacle hindering participants' capacity to communicate and our ability to facilitate discussions. If you can, we strongly advise you to get hold of some of the first-class technical solutions that already exist – like the Meeting Owl or the smart multi-cameras.
An example?
We designed and facilitated a one-day collaborative workshop with three companies from as many different countries who wanted to find ways to work together. After alternating in-room face-to-face discussions with digital plenary debriefings, we ended the workshop with virtual sub-groups bringing together representatives from every company. An ultra-collaborative, ultra-efficient day… despite the distance!
Setup #3: Hybrid remote meetings, the hardest to design and facilitate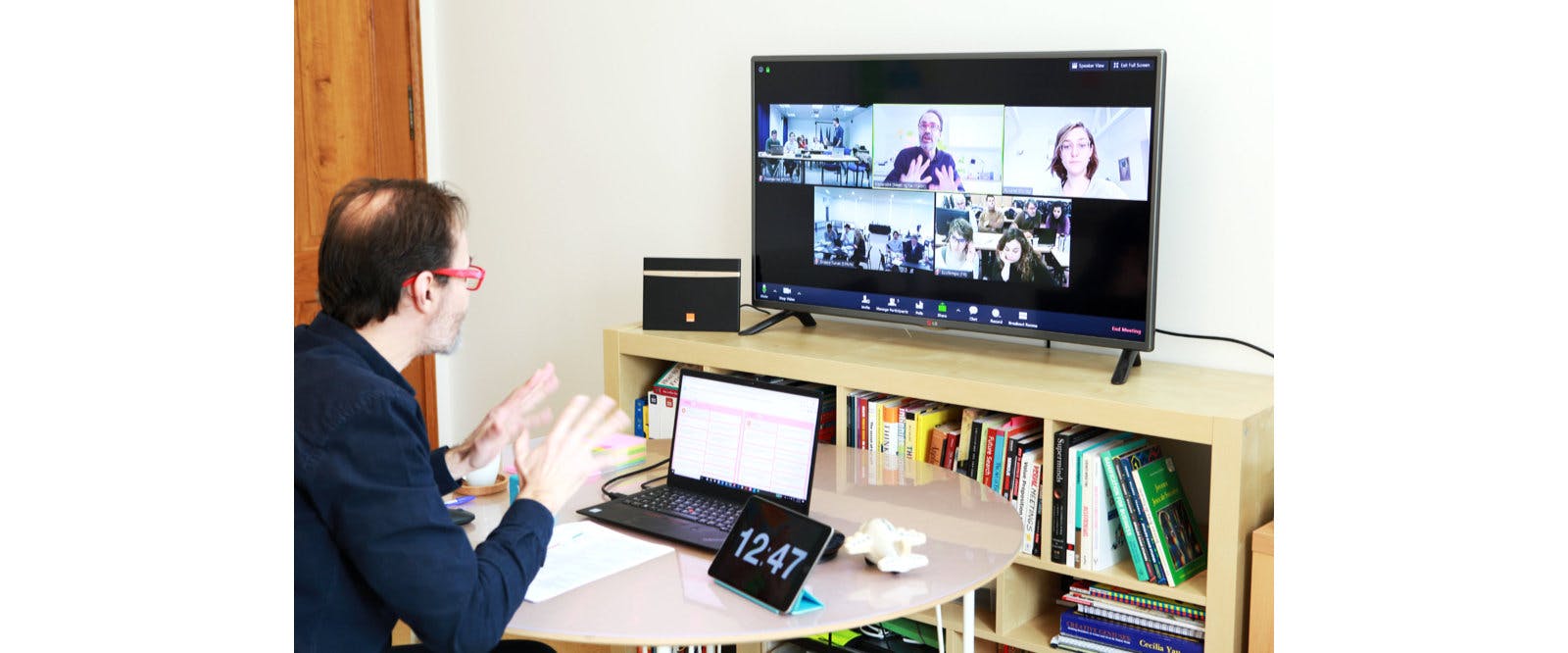 This format combines participants gathered in one or different rooms with others joining the meeting remotely, alone in front of their laptop.
The main challenge?
On top of having to deal with the difficulties of the two other formats, the design and facilitation of a hybrid collaborative meeting face another significant challenge: guarantee an optimal collaborative experience both for participants joining the workshop remotely and the groups working together in the same room.
An example?
We facilitated a series of focus groups for a pharmaceutical group bringing together, on one hand, health professionals giving their inputs from their home or office and, on another hand, the company's employees gathered in a meeting room to debate and discuss the practitioners' ideas. Rather than an obstacle, the different experiences of the two groups of participants was a crucial asset!
What are we waiting for?
When designing your next session, take advantage of knowing the strengths and weaknesses of those three formats. You should be able to provide a custom-made design to maximize the collaborative experience of your participants. Our personal favourite? The multi-room meeting! As demanding as it is ambitious, it opens up unprecedented collaborative possibilities and takes collective intelligence to a whole new level.
We can't wait to hear about your next remote session or virtual meeting. Just share it on our Facebook group dedicated to community of facilitators!