Our 2022 selection of the 5 best digital tools to facilitate your (remote) brainstorming and collaborative workshops!
February 17, 2022
Roxane
best tools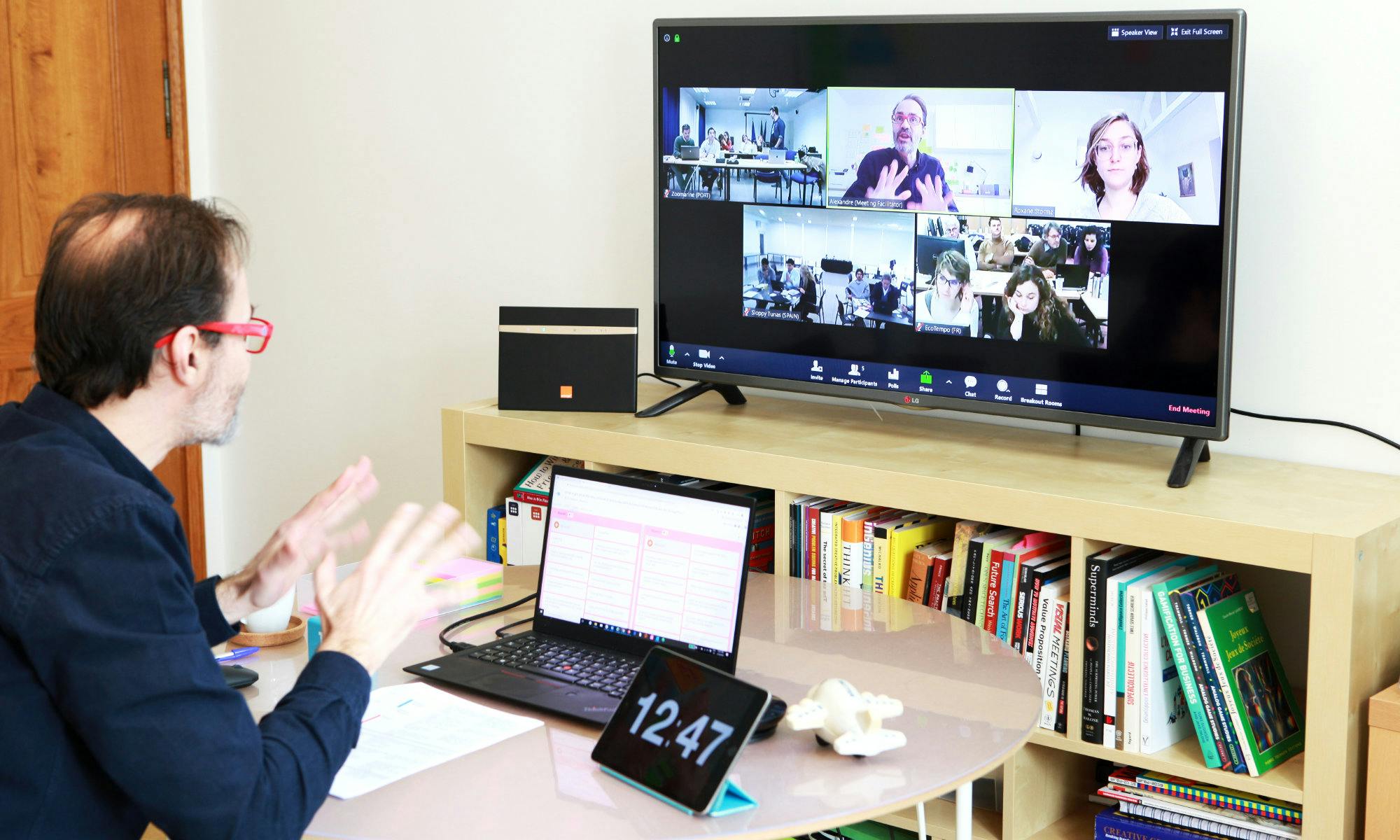 As facilitators, we don't believe in the existence of any ONE ideal platform, but in the skilful combination of several tools depending on your needs, constraints, and participants. A seasoned facilitator should always have several options to choose from in any situation.
Which criteria should guide your choice then? Here's what we usually look at:
The size of the group - is it a small, medium, or large group? This can clearly have an impact on the price, the solution paradigm to choose, etc.
The profile of the participants - Are they used to handling online platforms? How comfortable are they with digital tools?
The nature of the exercise - What kind of activities are planned? Is it a highly structured or free style process? Will visual cues play an important role in your workshop? What is the expected output for the session?
The frequency of use - Will participants have to come back to the platform on several occasions?

** ☝️Before we start, it's only fair to point out that you are on Storm's blog, one of the tools mentioned in this selection. Our opinion expressed here may therefore be influenced by our more in-depth knowledge of this platform. That being said, as facilitators ourselves, we always strive to adopt a neutral view of all the tools we use in our workshops as part of our approach. That's why we've tried to give you the most objective selection possible. Let's get started!**

The easiest for participants: Stormz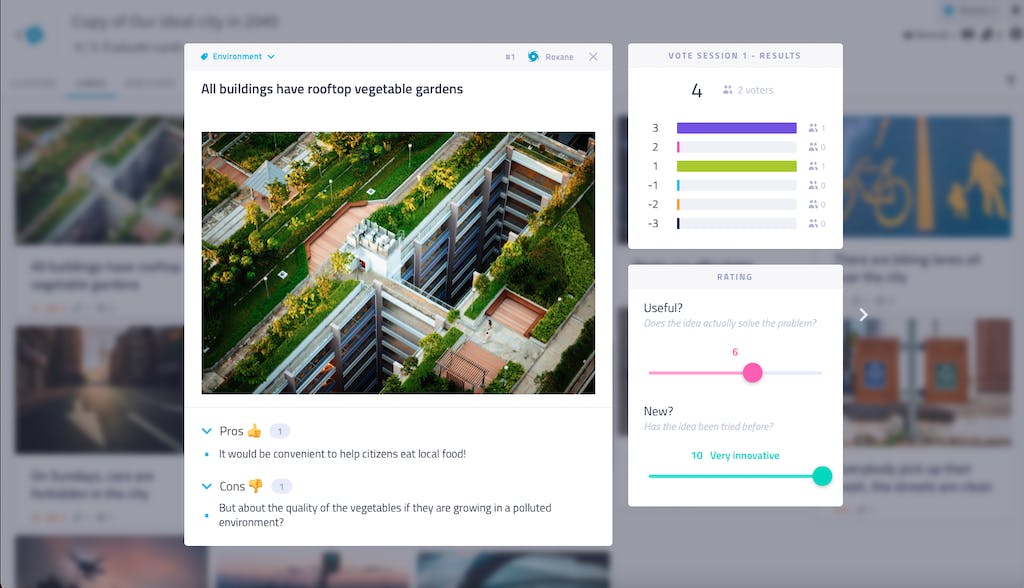 A French platform! Unlike whiteboard-type collaborative tools, Stormz is incredibly easy to use for participants considering the level of control of the facilitator to decide what they are allowed to do and see. There lies the paradox: the facilitator would have to invest more time and energy to learn the more advanced features of the platform, and each step of the workshop should be prepared beforehand by specifying detailed instructions and permissions. This pre-setup ensures a smooth, guided experience for participants and allows the facilitator to truly focus on leading the group during the workshop itself.
Another key advantage is that Stormz contains unique facilitation features that aren't found elsewhere, including advanced voting mechanisms, idea development systems and multi-criteria evaluation. What could be improved? The price, slightly higher than its competitors (the French VSB operates without fundraising) and the design, which could do with a little facelift (it's in progress ;)).


✅ Great for...
"One shot" sessions, when there's no time to train the participants. They can be up-and-running in under two minutes!
With its advanced features, Stormz is aimed at facilitators who like to fine-tune their sessions with their methodology, especially for brainstorming, co-construction, and decision-making workshops.
Works for any number of participants, including very large groups!


❌ Not so great if...
You'd like to work on highly visual exercises (diagrams, flow charts, designs);
You're simply looking for a tool to shake things up during a traditional meeting with a little quiz or something simply interactive
 You prefer to improvise and don't like preparing sessions in advance.
The best whiteboard: Miro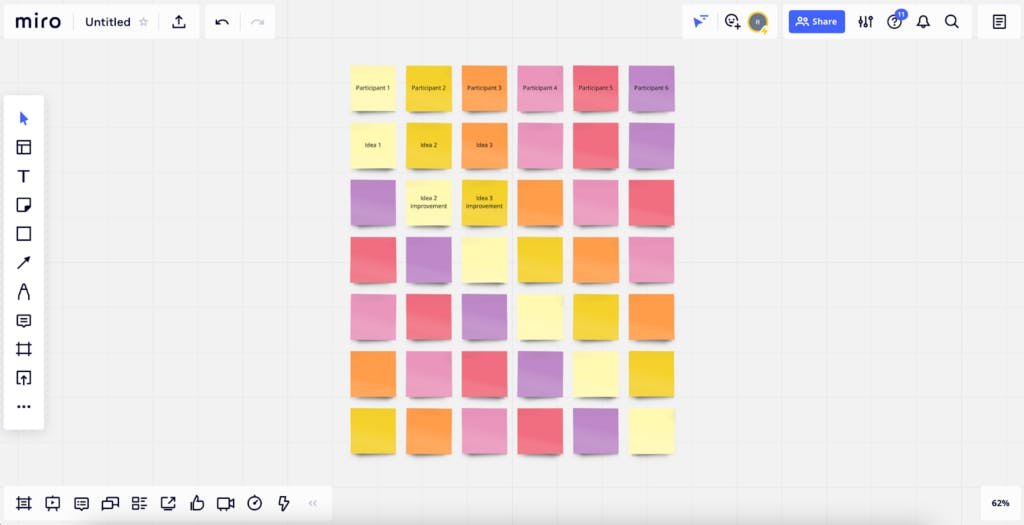 Miro has over 20 million users, which isn't too surprising given the incredible diversity of its features. Among the highlights are the quality of the templates shared by their user community, the fluidity of their infinite canvas and the variety of integrations available on the platform.
Compared to Klaxoon, Miro really stands out in terms of facilitating experience: the features offer an amazing level of freedom, and it's easy to find your way around. For example, we chose Miro to digitalize our highly visual serious game on agility "Theseus".
The level of precision of some of its features makes a huge difference, especially the ability to calibrate which area of the canvas participants arrive in, or the possibility to lock elements on the canvas one by one (so that participants can only move some of them). The sophistication and level of control of these features are a great comfort for the facilitator!
Amongst the other best-known whiteboards, we should also mention Mural (almost as good as Miro, in our opinion) and the new Figjam by Figma, which could very well attract all those who've already subscribed to Figma!


✅ Great for...
Collaborative work within the same team or with regular clients - especially on topics where visual representation is key like building diagrams, representing complex processes (creating a User Journey Map, for example) or interface design and prototyping activities.


❌ Not so great if...
The participants are not that comfortable with digital platforms, or if the tool will only be used once - it takes some time to understand how it works and adapt to the movements on the screen;
There are many participants and/or a large number of ideas to generate because numerous apparition and movements of items on the board can be unsettling;
You need to use sophisticated voting or decision mechanisms.



The most versatile: Klaxoon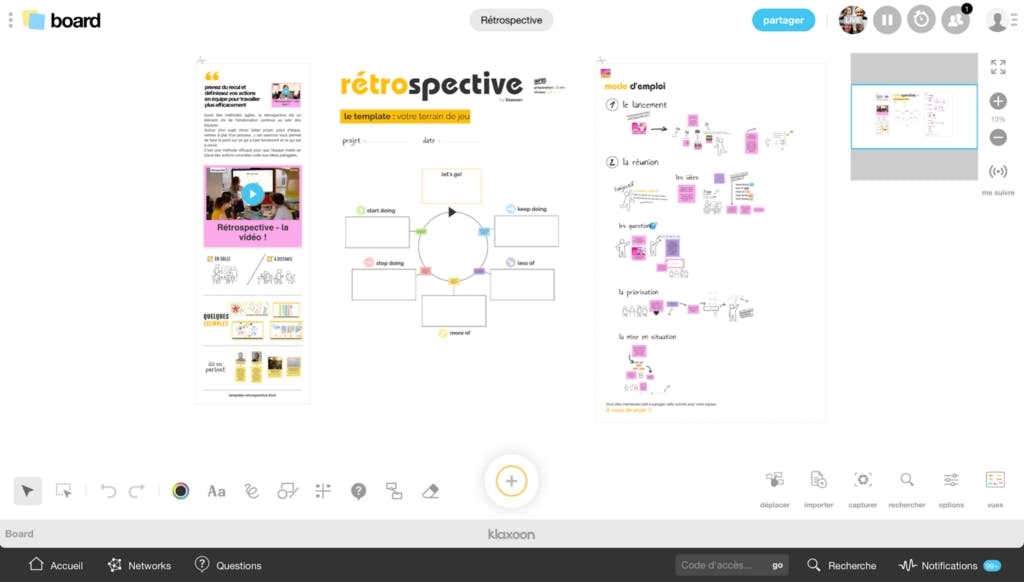 Klaxoon is the French platform responsible, through large-scale advertising campaigns, for making collaborative session tools as popular as they are today in France. Powered by a unique diversity of features, Klaxoon is the jack-of-all-trades platform to energise training sessions and meetings in French companies. We like the varied range of experiences offered to participants, from the Board for quick brainstorming to the Quiz, Poll, Capsule, Adventure and Mission series designed to test the participants' knowledge, as well as the Questions to collect feedback.
For participants - particularly on mobiles - the experience is generally smooth with a simple interface and a focus on key features, even though the latter are usually less advanced than on more specialised platforms. Even though they recently did a tidy up of the activities, the main downside is still the somewhat chaotic organisation of the tools within the platform, where first-time facilitators can easily get lost.


✅ Great for...
Having access to a wide variety of short and playful activities to engage a group during meetings and presentations.
This platform is suitable for a wide range of users (managers, trainers, event organisers) thanks to its "jack-of-all-trades" quality.


❌ Not so great if...
You're looking for advanced features or sophisticated parameters in each of the activities: for the workshop, the whiteboard is not as advanced as Miro's, the selection mechanism doesn't match Stormz's, and the interface is not as fluid as Mentimeter's or Kahoot's for the survey/quiz part.
You don't like being harassed by a horde of salesmen 😉


The fastest to master: Mentimeter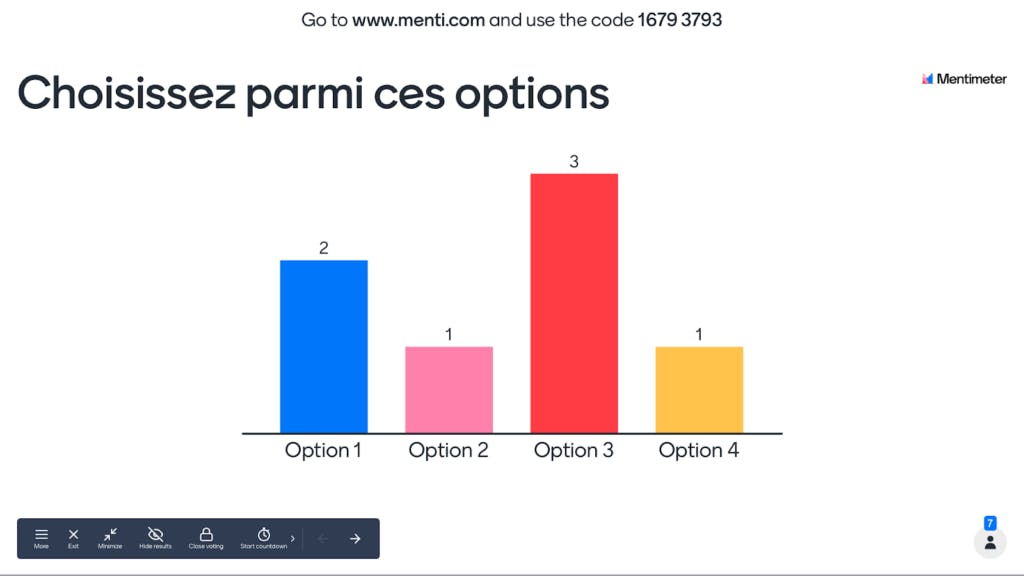 Mentimeter is a platform to create interactive presentations including polls, quizzes, word clouds, Q&A's, etc. Thanks to its straightforward and easy-to-use features, it's one of the quickest to learn! What we particularly like about Mentimeter is the aesthetics of the slide templates - colourful, and punchy - as well as how the information on presentation slides is clearly hierarchised. There's nothing more frustrating than an incomprehensible bar chart to summarise your participants' contributions at the end of the meeting! Thankfully, this won't happen with Mentimeter.
Just make sure you choose this tool for uses adapted to its "core business": namely "top-down/bottom-up" dynamics between the speaker who shares information and instructions, and the participants who contribute individually to generate data to be debriefed later.


✅ Great for...
A simple and well-designed tool to foster interaction and energise meetings focused on presentations.


❌ Not so great if...
You're looking to organise co-construction workshops and foster an intense exchange of views and ideas between participants;
You'd like to work on highly visual exercises (diagrams, processes, designs).



The most playful: Kahoot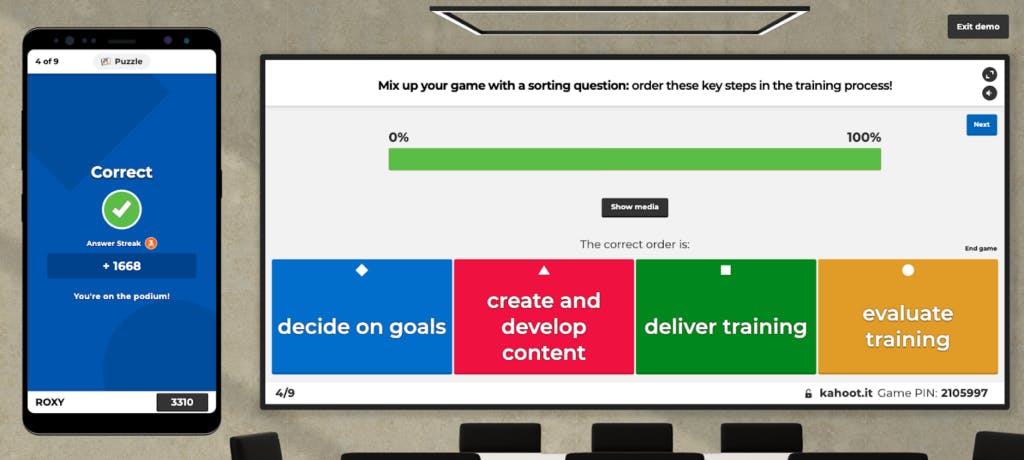 In terms of gamification, Kahoot is definitely the platform to have in mind! Originally a game-based learning tool used as educational technology in schools and other organisations, Kahoot's services have since grown to meet the needs of companies and can now be used to facilitate training sessions, presentations, meetings and even the onboarding of new recruits!
Regardless of your field, Kahoot is a tool you can rely on to create a learning and social space where participants can co-create, share knowledge, and learn from each other. The main downside is the design of the application which fails to offer, for the Company part, colour customisation features or different templates to better match business needs.


✅ Great for...
Having a single platform as a gathering point to foster learning and playful interactions between members of your organisation.


❌ Not so great if...
You need a "professional" look for your platform;
You prefer using a specific methodology, fine-tune group dynamics, or introduce sophisticated decision-making mechanisms.
So that's it for our selection of the best collaborative platforms in 2022!


Before you go hunting for the best tool to match your needs, one last piece of advice: always have several strings to your bow by learning the ropes of different tools and taking the time to test them according to your goals! Why? Simply because no tool can claim to address 100% of your challenges and constraints. It's always wise to have keys of all sorts and sizes to open all the right doors, reveal secret passageways and unlock the collaborative potential of your teams.
Article originally published in French on ilow.fr