Sections are dead, long live the lists!
February 08, 2021
Alexandre
New features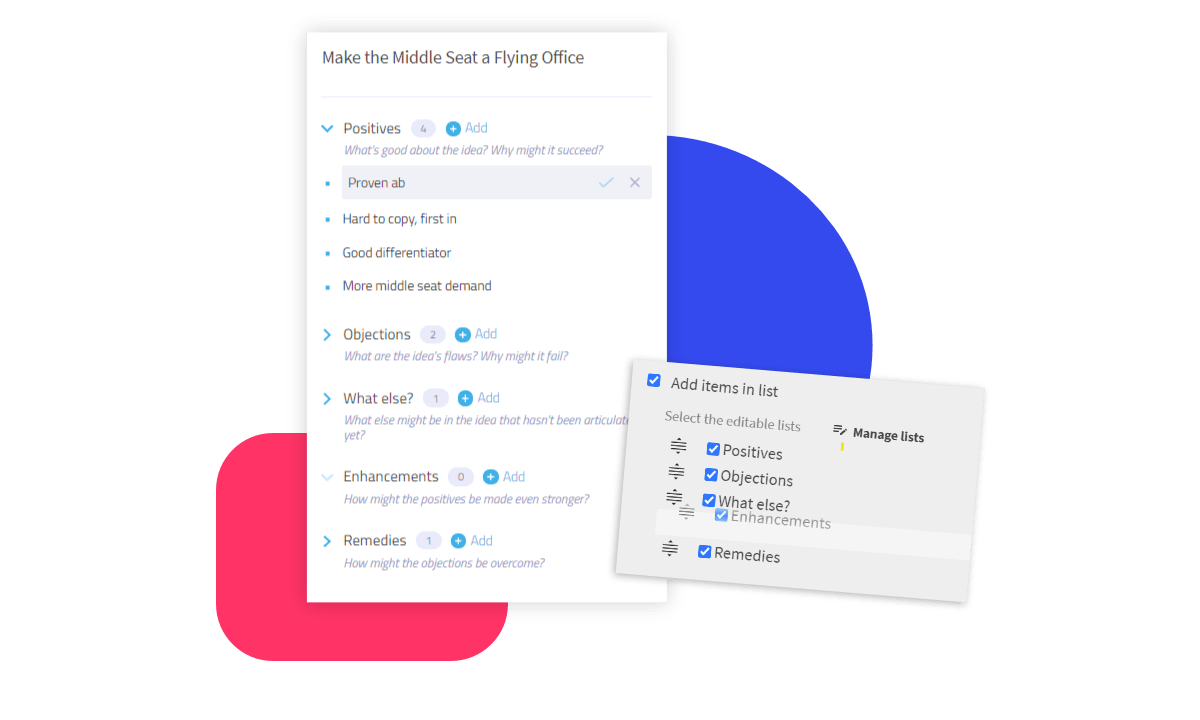 This week, we're releasing a series of updates to the sections… well, I mean the lists! The first change? Its name! Instead of sections, we'll now be talking about lists, which is a more accurate reflection of what that feature is actually all about… List of pros, list of benefits, list of actions and solutions, etc.
Just as a quick reminder, a Stormz list is a feature that you'll find nowhere else on the market, allowing participants to co-develop, enrich and turn mere seeds of ideas into robust and actionable concepts. This phase can also be referred to as "refining", "growing", "developing" or "greenhousing" ideas.
Apart from the name, here's a quick overview of all the new updates:
Subtle tweaks for a seamless user experience
Building upon years of experience, we've reworked the way lists work to make subtle changes designed to significantly improve participants' experience.

Until now, when many participants were adding items in the list, the "Add item" button and "Edit" field kept moving. Pretty frustrating... So we decided to change a couple of things:
We've added the possibility to fold the lists, so that participants can focus on one list if they want.
The "Add" button is now located next to the list's name - so it won't move even when new items are added.
When you're writing something in the list, arrival of new items will be frozen until you've finished, preventing participants from being bothered or distracted.
Another recurring problem was when participants added several different ideas in the same list item. List items are now limited to one single paragraph, and if you press return with the hope of adding a second one, the list item will automatically be saved.
But that's not all!

We used this opportunity to release other features and upgrades:
You can reorder the lists
Contrary to what was possible before, you're now able to change the order of the lists whenever you want and as you see fit.
You can hide other participants' items in the lists
This can be useful to keep participants from being influenced by each others' ideas when several of them are working on the same card at the same time - and ideal to diverge during a workshop's development phase.
You can add a list description
A practical feature to explain a list whose meaning appears obscure or unclear. A short but clear description helps participants quickly understand what's expected from them.
You can spot your own items at a glance
Before, it could be a bit of a challenge to find your own items and ideas. Thanks to our new visual upgrade, you can now see which items you've created in a split second (if you want to edit or delete them, for instance).
You can add several items in a row
Sometimes, you might want to add several items in a row. Piece of cake! When you want to save your first list item, just hit shift+return, and it'll automatically let you add another item.
Wanna know more?
To learn more, feel free to visit our help pages, or read our feature articles on the concept of greenhousing and on 9 different frameworks, such as PPCO or POWER to grow your seeds of ideas!