Stormz Online Facilitator Training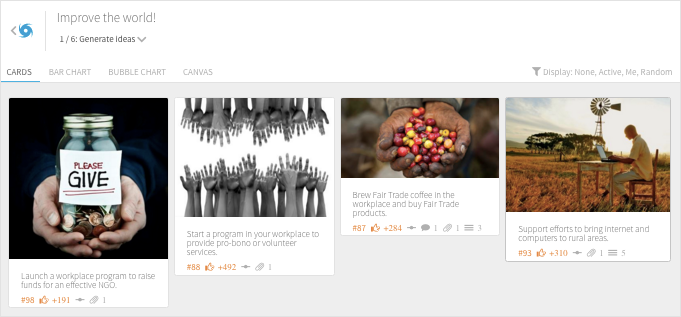 Overview
This 5-week course will give you an in-depth understanding of what Stormz can do and the confidence to use it to facilitate awesome collaboration sessions whether they are live or online, synchronous or asynchronous, with six or six hundred participants. In order to become certified as a Stormz facilitator you will need to complete all the exercises in the course within 6 months. We look forward to supporting you thru your certification process!
Your trainers
Alex, Isabelle will be your guides during your Stormz Certification. Alex is the co-founder of Stormz and has facilitated several hundreds of real life meetings with Stormz. Isabelle and Alex are part of the Stormz US team.
About This Course
You've gone digital for communicating, calculating, planning, and playing. But when it comes to facilitating, you still prefer to use post-its and flip chart paper.
Good news! Things have changed.
If you need to instantly share ideas across the room or across the world... if you want to facilitate decision-making in real time, with graphs and charts... if you need to facilitate from 6 to 600 in a single room—or across the web... if you need a way to grab online or smartphone visuals (including videos) to illustrate or expand ideas... if you want a simple way to eliminate bias during evaluation... If you'd love to plan faster and more flexibly using templates (your own or others)... if you want to generate instant reports and never again transcribe another sticky note or flip chart… then Stormz is exactly what you need.
Get certified as a Stormz facilitator.
By the end of the training you will:
Be confident designing and facilitating Stormz sessions with any number of participants whether they are in one room or across the web.
Understand best practices for online synchronous and asynchronous facilitation.
Be able to blend digital and non-digital facilitation tools. 

Why are we offering the Stormz Facilitator Training Online?
Because more and more facilitators interested in Stormz are spread across the globe.
Because we know that some of you learn faster and become more confident at using Stormz when you get hands on practice spread across time as opposed to concentrated into one intensive day.
How does the online certification work?
The certification process will take an average of 1.5 hrs per module and includes a total of 5 modules. You choose when to complete the activities.
Every module includes presentations, practice exercises and a discussion forum.
By the time you complete all 5 modules (including all exercises) you will be certified as a Stormz facilitator.
What's the cost?
The cost for online certification is US$ 300 per person.